Shock & Vibration Calculator App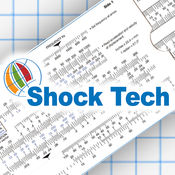 The classic ShockTech Shock and Vibration Calculator/Slide Rule is now available for both iOS® and Android®. It is enhanced with precision digital read outs for each scale versus the usual estimating of scale hash mark alignments only.
Results can be emailed for review by others.
About the App
The ShockTech Shock & Vibration Calculator app can calculate isolator and mount performance functions such as:
Natural Frequency of Suspension Systems
Percent (%) Isolation
Transmissibility at Resonance
Deflection Space Required
Amplitude or Force Attenuation
Random Vibration in One Sigma Response rms
Shock Pulse Shape Selection from Ramped, Versed Sine, Triangular, Half-Sine and Square pulse shapes